We have over 60  major BRANDS / SUPPLIERS who supply our Automotive Paints & Automotive supplies. Below is a selection of our Top Selling Products. Come into our showroom at Lonsdale to see all products available,
if we don't have it in stock, we'll get it for you fast!
FARECLA
Products supply Automative and Marine Industrial compounds of world-class quality.
All Farécla paste and liquid products developed for use on automotive paint systems.
For the fastest way to the finest finish for all automotive refinish paint and production and tooling gelcoats, Lonsdale Paints sell the full range of Farecla products;
Abrasive compounds
Wool pads
Foam applicators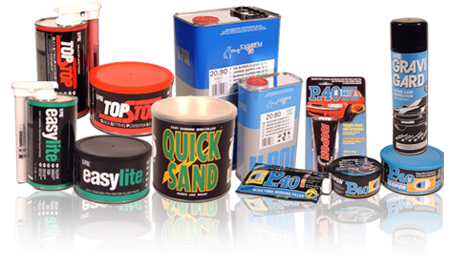 U-POL Ltd
, is dedicated to manufacturing and selling very high quality automotive refinish products including a comprehensive range of Compounds & Polishes, Clear Coats, Primers, Hardners, Thinners & Ancillaries, Specialty Coatings, Fillers, Abraisives, Sealants & Adhesives.
Bodyfillers
TOP STOP®: Smooth Finishing Stopper. Very smooth spreading and pinhole free to provide the perfect substrate for painting.
Coatings
S2080 – Super Clear Coat (2:1) Water white clear that will not discolour, Excellent for matching difficult colours such as light silver metallics.Very high gloss finish ideal for most repairs. Use with S2030, S2031, S2032 and S2033 hardeners.
Aerosols
GRAVI-GARD™: Anti-Stone Chip Coating – Fast and effective coating to reproduce original stone-chip protection. Ready for use in convenient aerosol format. Fast drying formula that can be over painted rapidly. Available in a choice of fine or coarse finish.
Adhesives
SH706- Smooth High Adhesion Body Filler for Plastics – Ideal for bumpers, SMC & most plastics. Pinhole free 2K polyester filler that is fast drying and easy sanding. Fills scratches and scuffs or can be used to finish a repaired area. Adheres to a variety of substrates including steel, aluminium, GRP and rigid plastics.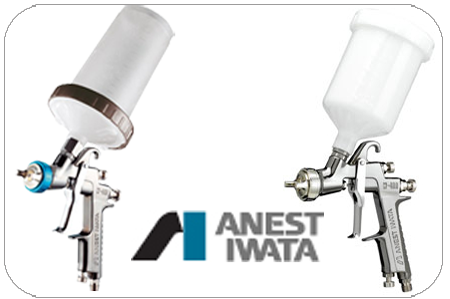 ANEST IWATA
brings to the Australian market a wide range of refinishing spraying equipment for the automotive Industry.
W400 Centre Gravity Feed Spray Gun
High Transfer Efficient – greater than 65% onto the job
• Less overspray = less wastage
• Fine atomisation spray pattern
• More paint coverage – fast operation
• New lightweight ergonomic design
• Gun head weight only 380g
• Perfect for waterborne materials
• Easy to clean chrome body
• Ideal for medium to large paint jobs in the auto refinish industry
To see Full Range visit ANEST IWATA